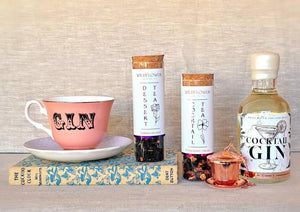 **Please stipulate which Cocktail Tea and Dessert Tea you would like at checkout**
A beautiful gift hamper comprising a small bottle of cocktail gin, a bone china tea cup, a 30gm dessert tea tube, a 30gm cocktail tea tube and a rose gold infuser. 


Makes a lovely gift for a friend, family member or even yourself!
Comes boxed up ready to gift!